DeskTop Label Printers

Where space is limited, Zebra desktop printers are a compact, affordable, and easy-to-operate solution.
Industrial Label Printers

Economical and rugged, Zebra's industrial and commercial printers enhance your productivity and strengthen your bottom line.
High Performance Label Printers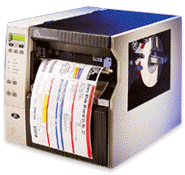 Zebra's High Performance printers stand up to your most demanding applications, delivering the power and reliability expected of a premium performance printer. Available in 203, 300, or 600 dpi.
Mobile Label Printers


Zebra's broad range of mobile printers work on-site, on-demand to keep your business on the go. Wireless mobile printing has never been easier!