Thermal Transfer Labels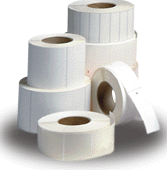 We offer a variety of pressure sensitive thermal transfer labels at discounted prices for all brand name thermal printers. Thermal transfer labels are for thermal label printers that require thermal transfer ribbons.
Our thermal transfer labels are available in both rolls and fan-folded packs. All label materials are available in popular label sizes and some as continuous material.
We can also special order custom thermal transfer label sizes, or produce pre-printed custom thermal transfer labels.
THERMAL TRANSFER BLANK LABELS
SIZE
# OF LABELS PER ROLL/STACK
1.50 X 1.00
5100
Labels/Roll
8
Rolls/Box
2.00 X 1.00
5100
Labels/Roll
8
Rolls/Box
2.00 X 1.00
2 ACROSS
10200
Labels/Roll
4
Rolls/Box
2.00 X 1.50
3500
Labels/Roll
8
Rolls/Box
2.00 X 1.50
2 ACROSS
7000
Labels/Roll
4
Rolls/Box
2.00 X 2.00
2750
Labels/Roll
8
Rolls/Box
3.00 X 1.00
5100
Labels/Roll
6
Rolls/Box
3.00 X 2.00
2750
Labels/Roll
6
Rolls/Box
3.00 X 3.00
1800
Labels/Roll
6
Rolls/Box
3.00 X 4.00
1400
Labels/Roll
6
Rolls/Box
3.00 X 5.00
1100
Labels/Roll
6
Rolls/Box
3.25 X 5.50
1000
Labels/Roll
6
Rolls/Box
3.50 X 1.00
5500
Labels/Roll
4
Rolls/Box
3.50 X 8.00
750
Labels/Roll
4
Rolls/Box
4.00 X 500'
Liner Exp.
CONT.
Labels/Roll
4
Rolls/Box
4.00 X 1.00
5100
Labels/Roll
4
Rolls/Box
4.00 X 2.00
2750
Labels/Roll
4
Rolls/Box
4.00 X 2.50
2200
Labels/Roll
4
Rolls/Box
4.00 X 3.00
1800
Labels/Roll
4
Rolls/Box
4.00 X 4.00
1400
Labels/Roll
4
Rolls/Box
4.00 X 5.00
1100
Labels/Roll
4
Rolls/Box
4.00 X 6.00
1000
Labels/Roll
4
Rolls/Box
4.00 X 6.00
NO PERF
1000
Labels/Roll
4
Rolls/Box
4.00 X 6.00
WOUND IN
1000
Labels/Roll
4
Rolls/Box
4.00 X 6.00 4" CORE
WOUND IN
750
Labels/Roll
4
Rolls/Box
4.00 X 6.00 1" CORE
250
Labels/Roll
12
Rolls/Box
4.00 X 6.00
6" O.D.
550
Labels/Roll
8
Rolls/Box
4.00 X 6.50
900
Labels/Roll
4
Rolls/Box
4.00 X 8.00
750
Labels/Roll
4
Rolls/Box
4.00 X 13.00
500
Labels/Roll
4
Rolls/Box
4.50 X 2.50
2200
Labels/Roll
4
Rolls/Box
4.50 X 4.50
1300
Labels/Roll
4
Rolls/Box
5.00 X 3.00
1800
Labels/Roll
4
Rolls/Box
5.00 X 4.00
1400
Labels/Roll
4
Rolls/Box
5.00 X 7.00
800
Labels/Roll
4
Rolls/Box
6.00 X 4.00
1500
Labels /Roll
4
Rolls/Box